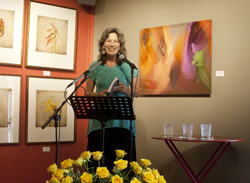 Renée's poetry is informed equally by the stillness, expansiveness and landscape of northern New Mexico as it is by her wide-ranging travels to places such as Cuba, Bali, Italy, England, Thailand, Laos, Cambodia, Vietnam and India. Her published collections include
The Skins of Possible Lives
,
The Storm That Tames Us
,
Drenched
,
Water Shed
and
Snow Falling on Snow
. Collaborative publications include:
Love & Death: Greatest Hits
(with Joan Logghe & Miriam Sagan, which won the New Mexico Book Award) and
Pa' Siempre: Cuba Poems, Unmasking the Fire
and
Road to the Cloud's House
(with John Brandi). The Palace Press at the Palace of the Governors in Santa Fe has featured several of her poems in broadsides and unique limited edition letterpress books (most recently,
"Fernando"
and
"Advice to a Traveler to Cuba"
).
Of her work, Joanne Kyger says:
Renée Gregorio knows and sees where she is—in her body, her place, herself. She finds courage in navigating the dark of deep waters.
And Anne Valley-Fox writes:
These candid and graceful poems form an intimate weave of inner and outer form. …they support a multitude of realities...yet, how light they are! In them, earth- nature and human-nature see eye to eye, heart to heart. These are poems to be received into the body, like breath.
She holds a master's degree in creative writing from Antioch University, and the rank of sandan in the martial art, aikido. She is a co-founder of the publishing collective, Tres Chicas Books. In the past decade, Renée's work as a coach has included many coaching engagements with individuals as well as group teaching in the form of poetry dojos, somatic training dojos and workshops (see
www.theembodiedcreative.com
for more information).
Of her first book, the poet Robin Becker says:
Gregorio's women give voice to our twin longings for individual identity and relationship. She articulates the tangle of our desires in bold and nuanced language.
And of her second book, John Nichols says:
"It has a quiet yet passionate intensity, richly connected to earth and to the yearning and scary rhythms and rites of true loving. The intimacy is both gentle and unafraid...
2020